Alternative Heating Systems is your authority on outdoor furnace installation in Northwest Lower Michigan and throughout Grand Traverse County. To that end, we offer some of the very best products from WoodMaster—an established, industry-leading manufacturer of wood-burning and multi-fuel furnaces. Let us introduce you to an energy-efficient, cost-effective model to heat your home or business.
Wood Furnaces
WoodMaster's selection of wood furnaces is extensive with capacities suited for every size property and heating demands. Consult with our knowledgeable experts to get more information about the wood-burning model that's right for you.
WoodMaster 3300:

An economical choice when there's no need for multiple hook-ups, the 3300 furnace is plumbed with a single heating loop. It comfortably heats an average-sized home and its hot water efficiently.

WoodMaster 4400:

This heavy-duty outdoor wood furnace is double-plumbed to heat larger homes or home-garage combinations, including hot water. Its larger firebox, ease of use, larger fuel door and higher BTU output ensure maximum efficiency.

WoodMaster 5500:

This super-duty wood boiler is double-plumbed and ideal for farms, providing heat for a home and a large shop or midsize commercial building. Increased fuel capacity for higher heat output, plus a larger door (2'x2') puts this model a cut above the rest.

WoodMaster 6500:

Another super-duty outdoor wood boiler, the 6500 is plumbed with four heating loops with the capacity to heat up to 20,000 square feet in any combination of a home, garage or workshop, pool, spa, greenhouse, wood kiln or other structures.
Multi-Fuel Furnaces
For the ultimate in convenience and versatility, not to mention energy efficiency and reliability, there's WoodMaster's multi fuel furnaces. We'll gladly walk you through the benefits and capabilities of any of the models we sell.
WoodMaster AFS 900:

This furnace uses wood pellets, corn, small grains and other materials to heat your home, garage, workshop, pool or other structure. It's one of only few outdoor pellet furnaces that operates clean enough to wear the white EPA tag.

WoodMaster AFS 1100:

This outdoor pellet furnace is capable of supplying heat to multiple buildings, including a home, garage or workshop, pool, spa, greenhouse or commercial structure. It heats efficiently using wood pellets, corn, small grains and other materials.

WoodMaster Flex Fuel:

Heat your whole home for far less money than fuel oil, propane, natural gas and even off-peak electric rates! WoodMaster's Flex Fuel Series uses cordwood and wood pellets, allowing it to alternate between a pellet boiler or a wood boiler—whatever is most efficient for your heating demands.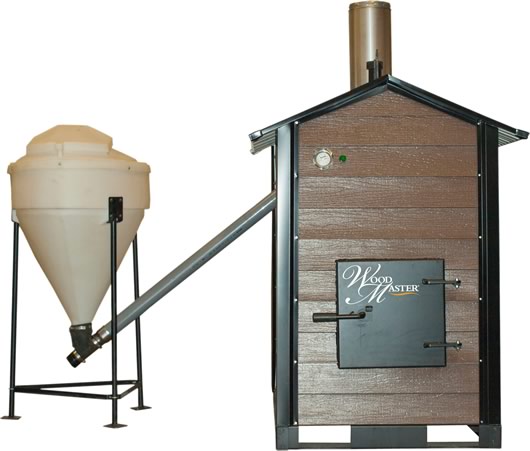 Choose WoodMaster Furnaces
Want to learn more about the optimum efficiency of WoodMaster outdoor furnaces? Contact Alternative Heating Systems today at 231-263-7516 to get the scoop on wood-burning and multi-fuel options.